Biography - A little bit about us!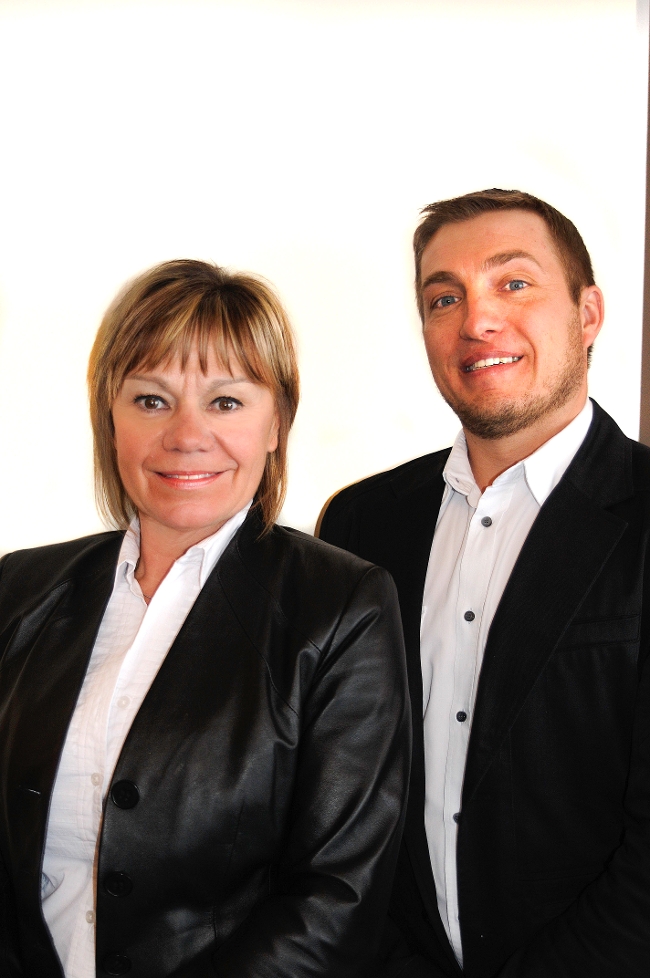 WE LOVE OUR CITY AND ALL OF ITS PEOPLE - AND WE ALWAYS LOOK FORWARD TO HELPING OUR NEIGHBORS! JON & CHERYL
Thanks for stopping by to learn a little bit more about us!
With a combined 40 years of experience in the Winnipeg Real Estate Market and involvment in over $150,000,000 worth of Residential Real Estate Sales, we decided to join forces to serve you better! Through our years of experience, we recognized that it would be much more beneficial to our clients to have a team working hard to deliver the exceptional service that you deserve! Plus, we both bring something different to the table!
CHERYL - Born and raised in Manitoba, I love my career which began in HR and led to many successful years in commercial Real Estate where I learned to become a fierce negotiater with a straight forward and no nonsense approach to providing my clients with nothing less than exceptional service. Now, specializing in residential Real Estate, I am doing what I am truly passionate about!
The commercial side of Real Estate has taught me a great deal about getting the job done for my clients. However, it was lacking the personal connection that I now have the opportunity to make with each and every client. There is no greater reward then getting the job done and being able to experience the excitement that my clients have..... The personal "Thank you's" are the best part!
I strive for nothing less than the best when working for my clients in order to truly earn those "Thank you's"!
JON - I am a proud lifelong resident of Winnipeg and I truly love this city and it's people. I am both excited and grateful for the opportunity to work in this great city while providing exceptional service to my "neighbors" at the same time!
Between many years in new home construction, my residential construction business and my career in Real Estate, I have been helping people move for over 16 years. Although I have replaced the toolbelt with a briefcase, I feel that I am still building...... But now it is relationships with my clients built on a strong foundation of trust and honesty. I do still jump at the opportunity to put the tool belt on, which comes in handy when a listing needs a few touches to make it just right, or when my buyer clients need a hand personalizing their new homes!
From $100,000 homes to $1,000,000 homes, I can proudly say that I have worked in this wide range of values, helping many clients BUY and many clients SELL. In addition to residential resales, I have been involved with marketing teams, representing several different builders on new condominium developments throughout Winnipeg.
My knowledge and experience, strong work ethic and commitment to my clients, will ensure that you EXPERIENCE EXCELLENCE when putting me to work for you!
WHY WORK WITH US? Whether you are educated and experienced in the home selling/buying process, or a first time seller/buyer, we will evaluate and consult with you to ensure we fully understand - meet and exceed - your expectations. We will walk you through the preparation, sales, negotiation, contracts and disclosure processes to be certain you are informed, and more importantly, protected. We will not compromise our professional or ethical responsibilities throughout this entire process. The reasons continue so please feel free to contact us anytime with any questions or to discuss further. In the meantime, have a look below to see what we have been up to lately or browse through our testimonials....... We would love to add you to our list of extremely satisfied clients!
A GLIMPSE AT SOME OF THE RECENT SALES THAT WE HAVE BEEN INVOLVED IN!
NEW CONDOMINIUM DEVELOPMENTS;
~ ASPEN MEADOWS - 118 UNIT APARTMENT STYLE CONDOS
~ 1810 CORYDON - 18 UNIT LUXURY TOWNHOMES
~ THE RENNAISANCE - 41 UNIT LUXURY APARTMENT STYLE CONDOS
~ 55 WINDMILL WAY - 46 UNIT APARTMENT STYLE CONDOS
~ OAKWOOD ESTATES - 14 UNIT BUNGALOW STYLE CONDOS IN OAK BLUFF WEST!
RECENT RESIDENTIAL RESALE ACTIVITY!
~ 72 WOODLANDS CRES ~ 7 DRAHO CRES ~ 46 PARK AVENUE ~ 5 MELONLEA COVE ~ 425 GREENACRE BLV ~ 70 SOUTHWALK BAY ~ 100 MANITOBA STREET ~ 251 DORAN BAY ~ 170 ACHESON DRIVE ~ 35 GEORGETOWN DR ~ 1164 ASHBURN ST ~ 30 BENSON DRIVE ~ 1481 WELLINGTON CRES S ~ 7 HORIZON DRIVE ~ 18 VESTFORD PL ~ 856 KNOX STREET ~ 842 PARKHILL STREET ~ 388 OAKDALE DRIVE ~ 935 HECTOR AVE ~ 552 PEMBINA TRAIL ~ 35 DAFFODIL STREET ~ 630 PARKHILL STREET ~ 30 PINE VALLEY DRIVE ~ 6671 BETSWORTH AVE ~ 39 GOWLER RD ~ 18 ANTOINE AVE ~ 822 PARKDALE STREET ~ 282 OAKDALE DRIVE ~ 96 BROWNELL BAY ~ 791 RENFREW STREET ~ 150 WOODHAVEN BLVD ~ 128 PARK PLACE EAST ~ 1202-15 KENNEDY ~ 1606-15 KENNEDY ~ 1006-15 KENNEDY ~ 903-15 KENNEDY ~ 305E-1780 GRANT AVE ~ 40-1445 ROTHESAY ~ 16-4025 ROBLIN BLVD ~ 108-1151 ST ANNE'S RD ~ 435 RUTLAND ST ~ 270 AMHERST ST ~ 305-91 SWINDON WAY ~ 1-313 WARDLAW ~ 46 MAYFIELD CRESCENT ~ 712-94 QUAIL RIDGE ROAD ~ 112 WHARTON BLVD ~ 397 HARCOURT STREET ~ 63 MUSGROVE STREET ~ 19 ARTHUR CREAK DRIVE ~ 23 CARRIAGE BAY ~ 394 POWERS STREET ~ 5 TANSI LANE ~ 1 ORCHARD GATE ~ 16 LITZ PLACE ~ 734 ELMHURST ROAD ~ 408-3070 PEMBINA HWY ~ 19 MARKSBRIDGE DRIVE ~ 82 RADCLIFFE ROAD ~ 73 LAUREL RIDGE DRIVE ~ 676 COMMUNITY ROW
*** SEE "PROPERTIES" AND "NEW HOMES" TABS FOR CURRENT AVAILABLE PROPERTIES!***