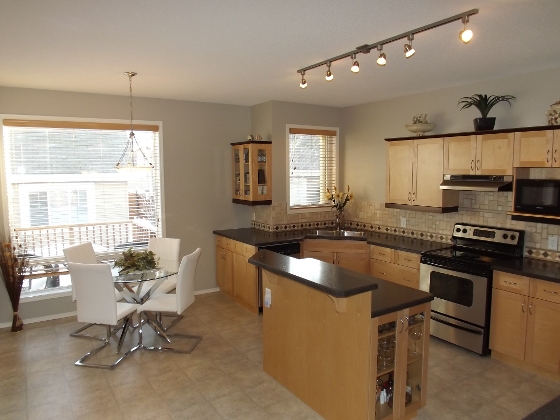 Looking for a Condo in Sage Creek?? We have a gorgeous listing at 5 Tansi Lane...... An incredible opportunity and a fantastic location within Sage Creek for just $379,900! Todd Lewys came out and did the following feature for us which was run in print (3/4 page) and online in WINNIPEG FREE PRESS HOMES!
Sometimes, a home's look can be deceiving. In some cases, it might look plain from the outside, yet be dynamite inside. In other instances, it might possess great curb appeal, but be rather unappealing once you step inside. Then -- on rare occasions -- a home's looks are a mere prelude to what awaits once you walk inside.
That's the case with the 1,665-square-foot two-storey townhome-style condominium found at 5 Tansi Lane in Sage Creek, said Cheryl Thurston of Realty Executives First Choice.
"This is a bright, spacious, well-maintained and beautifully upgraded Randall-built home in a premium location," said Thurston. "Its design (the townhome was built in 2009) was ahead of its time. There's just so much open space, and each area feels that much bigger and brighter because ceilings are nine-feet high; the high ceilings then allowed for the placement of huge windows everywhere."
Wow factor is front and centre the moment you enter the home. First, the foyer is demarcated in luxurious fashion by gorgeous taupe/beige tile with a circular (chocolate brown) tile inlay. Next, a dramatic natural maple staircase angles its way smartly up to the second floor to the left of the foyer.
Then, there's the great room, said Thurston's sales partner, Jon Wiebe. "It's hard to know where to begin, it's such an amazing space," he said. "Both the family room and dining room are defined by (white) pillared entrances with maple capped one-third walls. The family room and dining room are separated neatly by a gorgeous three-sided gas fireplace, the family room has a huge picture window that lets in tons of natural light, and the natural maple hardwoods just gleam."
He added that the great room's available space has been well-distributed. "The entire area is 24.5 feet by 11.75 feet. The dining room is huge, and easily holds a table for eight, with room to extend it out, if necessary. On the other side of the fireplace is the family room, which offers plenty of room for furniture and all kinds of natural light. It's a perfect area for entertaining."
Thurston said the adjacent eat-in kitchen -- which also contains a handy main floor powder room -- is equally spectacular. "It's absolutely huge, with room for a table for four and door that leads out to a backyard with large deck, double garage and fencing on either side," she said. "There's also an island with raised eating bar for two, tons of natural maple cabinetry (with dark maple trim), gorgeous tile backsplash, under-cabinet lighting, corner pantry and newer stainless-steel appliances that come with the home."
Heading upstairs to the home's second floor is a pleasure thanks to the aforementioned natural maple staircase, which adds another welcome dash of style. Arrival at the top reveals a generous -- and light-bathed -- landing around which two bedrooms and a four-piece main bath revolve to the left of the stairs.
Meanwhile, the master suite is set down its own seven-foot hallway -- created by the a one-third maple capped wall that borders the stairs -- on the right-hand side. The design creates a layout that offers the best of both worlds: ample space to move between spaces, yet the master bedroom is a private, defined space.
"The two secondary bedrooms are both a good size and come with good storage space," said Thurston. "As is usual with Randall Homes, the bedrooms have huge windows. That allows all kinds of natural light to spill into the landing. Even more light pours in from a huge picture window in the master suite."
Not only is the master suite filled with light, but it's also filled with luxury and utility. The luxury comes in the form of a spacious ensuite that's been outfitted with an oval soaker tub, four-foot shower and natural maple vanity; the utility is derived from the walk-in closet. "It's not only huge, but it comes with a large window and all kinds of wire racks for storage," said Wiebe. "The master bedroom is awesome in every respect."
The same can be said of the home's lower level. Fully developed and offering about 670 sq. ft. of livable space, it's at once luxurious and practical.
"You don't always have this much space to develop in the lower level of a townhome-style condo, but this one does," Thurston said. "It's been beautifully utilized with a rec room that's been pre-wired for surround sound - there's a media area, games area and wet/dry bar -- plus a wing with exercise room/office, laundry room and gorgeous three-piece bath with custom tile/glass shower with rain shower head."
Finally, there's the home's location, which is exceptional, said Wiebe. "Its location is one of the best in the community. Access in and out of the area is quick and easy, you're a two-minute walk from Sage Creek Village (shopping/services area), walking/cycling trails and wetlands are just steps from the front door, and you're tucked away on a quiet street. It's a move-in-ready home that's ideal for singles, young couples, families or empty nesters."
lewys@mts.net
Hit our "PROPERTIES" tab above for more details on this great Sage Creek Condo!